Kids Paradise Club Program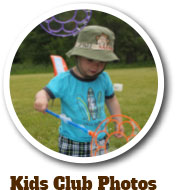 Your dedicated Camp leaders are Chelsea and Kyrsten who are very excited to play with your children!
This program runs in the afternoons for 1-2 hours while parents are in camp. The program will be at the Kids Outdoor Park in camp. The activities can include sports and/or crafts depending on the age of the children.
Sports & Crafts Activities Can Include:
Badminton
Volleyball
Basketball
Bocce ball
Water balloon fights
Slip and slide fun
Create critters from natural objects
Learn to make cool crafts from recycled materials such as stores and other building structures
Mud puddles and bubbles for the younger children to make barefoot mud prints to bubble blowing fun

Obstacle courses and relay races
Treasure hunt
Camp scene diorama
Camp banner – kids can make a camp banner to decorate their cabin with
Making friendship pins
Board games
Card games
Children also get to make a cardboard box vehicle of their choice and then they will be invited to the camp owners lodge for a "Drive in movie theatre night!"